Discovery of generations of winegrowers, tasting of red, rosé and white wines from Lebanon: I invite you today to discover the history and production of lebanese wine. The opportunity if you are on vacation in Lebanon to discover a varied selection of Lebanese wines, visit the oldest and most popular vineyards in the country and learn more about the history and production of Lebanese wine.
Wine and Lebanon, an ancestral history
You should know that Lebanese viticulture dates back to -6000 BC. Lebanon is historically one of the very first wine producers in the world, since the first wines were produced at the time in this region, in the current Middle East.
Around 3000 BC. J.-C., the Phoenicians export their wine, distributing it throughout the world. For centuries it has been the Bekaa plain that most Lebanese wines are produced. Besides, one of the temples of Baalbek is dedicated to Bacchus, the Roman god of wine.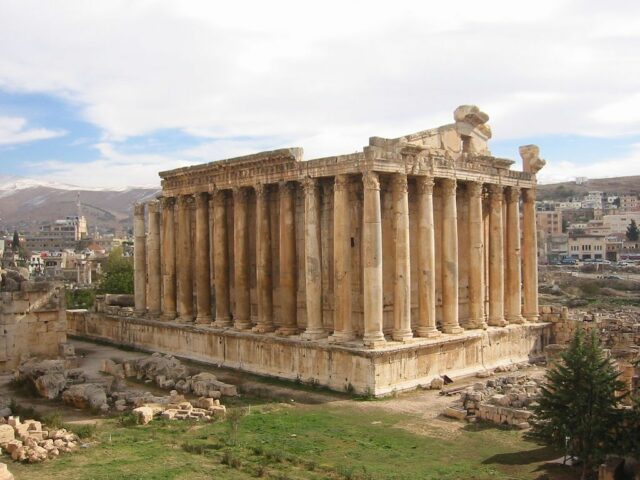 Lebanese wine today
At the time, the grape varieties were innumerable. Today, the main grape varieties used for winemaking have returned from their origins from the West to the East, after millennial evolutions:
For red wine, we find cabernet sauvignon, carignan, cinsault, grenache noir, syrah and tempranillo.
For white wine, these are Chardonnay, Clairette, Merwah and Obeidi (local grape varieties mainly used for Arak which are assumed to be local clones of Chardonnay and Sémillon), sauvignon blanc, ugni blanc and viognier. Note that we will make an article dedicated to arak, the national drink made from grape and anise alcohol 😉
The wines of Lebanon are based on sun-kissed fruits, very concentrated and generous. The particularity of Lebanese wine is that the grape varieties totally reflect the tumultuous and very diverse history of Lebanon: Mediterranean and French grape varieties, but also some rare typical Lebanese grape varieties which have survived the different influences, numerous prohibitions and wars (the merwah and the obadieh for example).
The commercial boom of Lebanese wine
Wine is undeniably part of the Lebanese landscape. The world of wine is attracting more and more amateurs and professionals to Lebanon. Beyond the very trendy character of the wine, the wine estate is integrating a real fundamental movement in Lebanon. The Lebanese vineyard continues to develop, new terroirs are exploited, innovative cultivation methods practiced and new grape varieties planted.
Visiting Lebanon also means witnessing the emergence of motivated and rigorous winegrowers who do their utmost to produce wines that perfectly reflect their image. Following the wine route in Beirut also means meeting many new consumers.
In a very short time, Beirut has become a place of reference for organizers of wine fairs. The capital brings together local producers from all over Lebanon. Most come driven by their own initiatives, others led by a community. In all cases, they have a common goal, that of reaching the greatest number of consumers.
More and more people are attracted to tasting clubs and courses, to understand, learn, discover and develop their sense of taste. But above all travel through a speech, a glass, a bottle, a story or a presentation.
The best way to taste the delicious wine of Lebanon is also to browse the greatest restaurants in Beirut. Most pay special attention to their wine list and even select their staff to satisfy connoisseurs. Most of them are equipped with wine cellars allowing good storage of bottles and good service of wine at the appropriate temperatures. Nothing like a meal accompanied by a good wine to live an unforgettable culinary experience in Beirut.
The top of the best Lebanese wines
Here is a quick overview of the main Lebanese wine producers. Obviously, this list is not exhaustive, and if you have any suggestions to share, do not hesitate to share them in the comments of this article!
Ksara Castle, the history
Founded by the Jesuit Fathers in 1857, Ksara wine laid the groundwork for what would become the production of modern Lebanese wines. It is the wine that can be found in most Lebanese restaurants around the world, and especially in France, and for good reason, it is one of the most famous references. It brings together 10 vineyards on a total of 441 hectares located in the Bekaa Valley.
But other producers, which can also be classified as historic, will emerge during the 20th century.
Château Kefraya, the other leader
In the leading duo, with Château Ksara, we find the indestructible Château Kefraya. This 300-hectare wine estate, also located in the Bekaa, produces 1.5 million bottles a year of white, red and rosé wine which are exported to several countries in America, Europe, the Middle East and Asia. , Oceania and Africa.
The two largest producers – Château Ksara and Château Kefraya – represent 40 % of Lebanese wine production. The rest of the market is shared by the outsiders, who for several years have redoubled their imagination and creativity to emerge, by offering very high quality wines, often organic.
Château Musar, the outsider
Another producer with an international reputation, Château Musar comes on the heels of the first two wine producers. Founded in the 1930s by Gaston Hochar on his return from Bordeaux, Château Musar produces white, red and rosé wines and was the first to obtain "organic" certification. The vines are still and always located in the Bekaa, whose climate is conducive to viticulture.
The main producers: Château Saint Thomas, Cave Kouroum, Nakad, Adyar, Château Oumsiyat, Coteaux les Cèdres, Domaine des Tourelles, Couvent Rouge, etc…
It would take too long to tell you the unique story of each of these producers, so we let you discover them through a few photos, and we especially invite you to discover their wines directly in a restaurant, during a visit to Lebanon or placing an order on the Internet.
The wines offered at Libshop
You may not all know it, but this guide is written and published by the LIBSHOP brand, a concept of modern Lebanese restaurants in Paris. And without dwelling too much on our case, know that you will find in restaurants, depending on the arrivals, the following products at Libshop:
Ixsir: the excellence of Lebanese wine
Created in 2007, Ixsir is an alternative to historical wine producers. The idea was to reconnect with the best forgotten grape varieties in Lebanon, from Batroun to Jezzine. We chose it because its outsider position makes it one of the wines that quite simply offers the best value for money.
We have chosen the ALTITUDE wine, whose red stands out for its supple and delicate character, where blackcurrant and blackberry mingle, while the rosé of the same name will charm you with its pink marble color with peony reflections, announcing an intense nose of currants. and vine flowers.
Ixsir has won several awards for the quality of its wines, and for its compliance with environmental standards. At Libshop, we serve it with our mezes, and each time its tasting elicits a large number of very positive comments. This is why we recommend it to you with your eyes closed. Check out her story on her Instagram account.
Château Kefraya, a legendary reference
We also offer the excellent MYST rosé from Château Kefraya, with its pretty bottle, for summer days… We chose it for its subtle floral nuances and its notes of berries and lychee. On the palate, Myst is ample, suave and lets the Syrah express itself with delicate notes of red fruits: redcurrant, strawberry and at the end of the mouth, blackcurrant. A reference.